Tyler Candle Mixer Melts 3-pack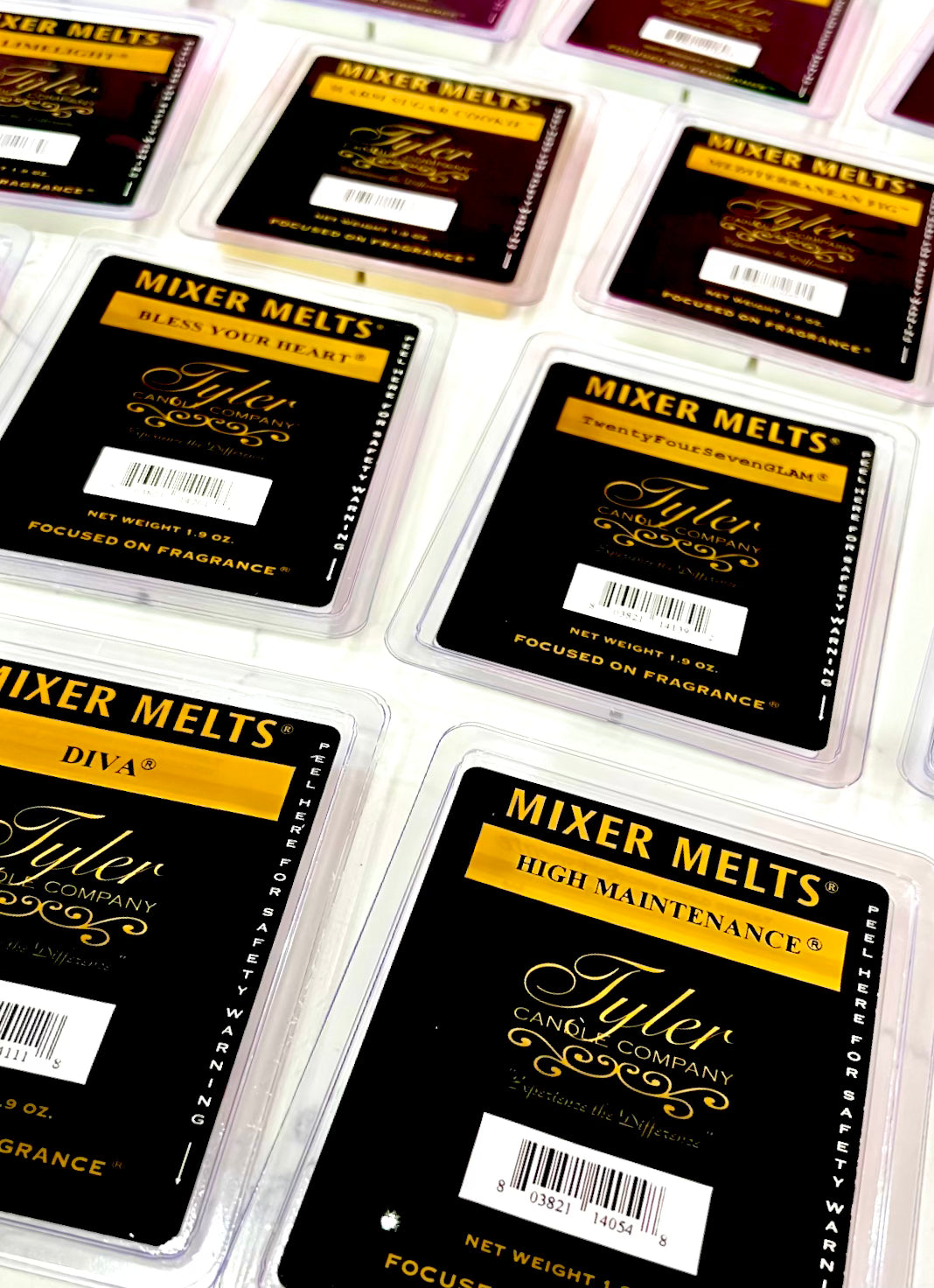 Everyone's favorite Tyler Candle scents in mixer melts-- perfect for any wax warmer.
1.9oz each
*All scents are in a 3-pack.
BLESS YOUR HEART™ Innocent, sweet, playful & always truly genuine!! Raw Vanilla, Bergamot, Sicilian Orange, Raspberry, Fig Leaves, Lily of the Valley, Cotton Candy, Musk, ended with Woody notes!!
BLUEBERRY BLITZ®Overload on blueberries! Untamed, tart & invigorating!
DIVA® A warm and complex fragrance overflowing with delicious fruits and rich florals. Rich aromatic chocolate and amber complete this luscious blend!! It's her world...we just live in it.
DOLCE VITA® Where sensuality and femininity live side-by-side! Plunge straight into the heart of deep floral accords. Full-bodied tea and bergamot begin the temptation! Sabac, jasmine, orchid, freesia and patchouli come together to create the power to make everything more positive!
FLEUR DE LIS® A timeless fragrance with a heady, sun-kissed feel wrapped in the exotic lushness of faraway lands. Tart pomegranates create the mysterious heart of the amazing fragrance. An elixir for the senses!
HIGH MAINTENANCE® Tyler Candle's #1 fragrance!! Floral, woody blend combined with patchouli and vanilla with a heavy musk undertone! Very sophisticated and truly addictive!
LIMELIGHT® This is an invitingly clean, fresh fusion of pure mandarin oranges with a shocking touch of lime as a top note. A slight undertone of rich vanilla bean oil gives this a unique twist.
MEDITERRANEAN FIG™Sun baked Italian figs mixed with a hint of sandalwood and musk. Enticingly different and extremely memorable!
MULLED CIDER™ Rich apples blended with a dash of citrus, cinnamon & clove.
PINEAPPLE CRUSH® A tantalizing burst of fresh sweet pineapple. Truly mouthwatering!
PLATINUM® Inspired by the masculinity, power and strength of a man. A complex mixture of bergamot, lavender, pineapple leaf, exotic verbena, oakmoss, geranium, coumarin, apple, rose, pomarosa, sandalwood, tonka, & evernyl.
TWENTYFOURSEVEN
GLAM® A truly dramatic feature! For the women to which glamour is not an option, but a true necessity! Who would simply just NEVER......... Voluptuous vetiver, vanilla and heliotrope combined with violet and jasmine make up the heart of this creation, then mandarin, succulent peaches & green ivy complete the soul!
WARM SUGAR COOKIE™ Always in our top three year round! Rich sugar cookies baking in the oven with zero fat grams!!